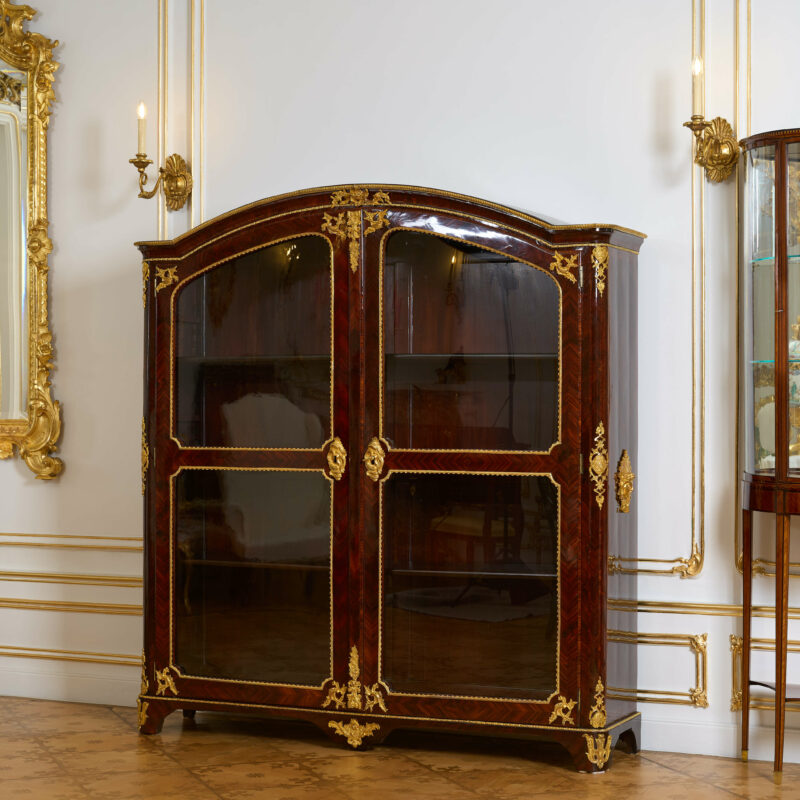 Magnificent LOUIS XV Library Cabinet
France, second third of the 18th century
Majes­tic, French LOUIS XV library or salon cab­i­net veneered in rose­wood and adorned with splen­did gild­ed bronze dec­o­ra­tion. The body and doors are craft­ed with mul­ti­ple mir­rored rose­wood veneers.
The doors are divid­ed into four glazed seg­ments and framed with gild­ed bronze dec­o­ra­tive strips. The cor­ners of the doors are adorned with small styl­ized drag­ons. The orig­i­nal lock and bolt are hand-forged and dec­o­rat­ed with splen­did gild­ed bronze fittings.
Both the crown exe­cut­ed in an arched shape and the base are abun­dant­ly adorned with gild­ed bronze ele­ments and dec­o­ra­tive strips. The sides of this mag­nif­i­cent library cab­i­net are divid­ed into two super­im­posed fields, each exe­cut­ed with quadru­ple mir­rored veneer in their inte­ri­or and bor­dered by band inlays.
The cen­ter of both side walls is adorned with a large, fine­ly chis­eled female mask made of gild­ed bronze, crowned with a lam­bre­quin tiara. We can find this mask mod­el, among oth­ers, on the side walls of a com­mode by André-Charles Boulle, exhib­it­ed at the Lou­vre Museum.
The inte­ri­or of the cab­i­net is divid­ed into four seg­ments with three adjustable shelves.

Fur­ni­ture of such fine crafts­man­ship with such mag­nif­i­cent gild­ed bronze dec­o­ra­tion was only made for very state­ly homes in its time.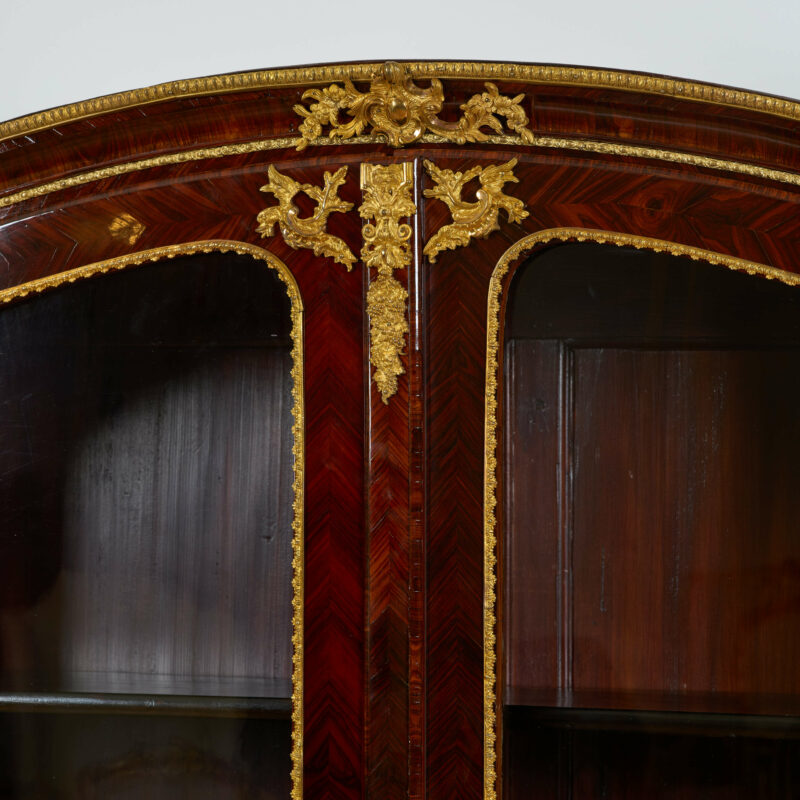 Magnificent LOUIS XV Library Cabinet
W: 165 cm, H: 175 cm, D: 42 cm