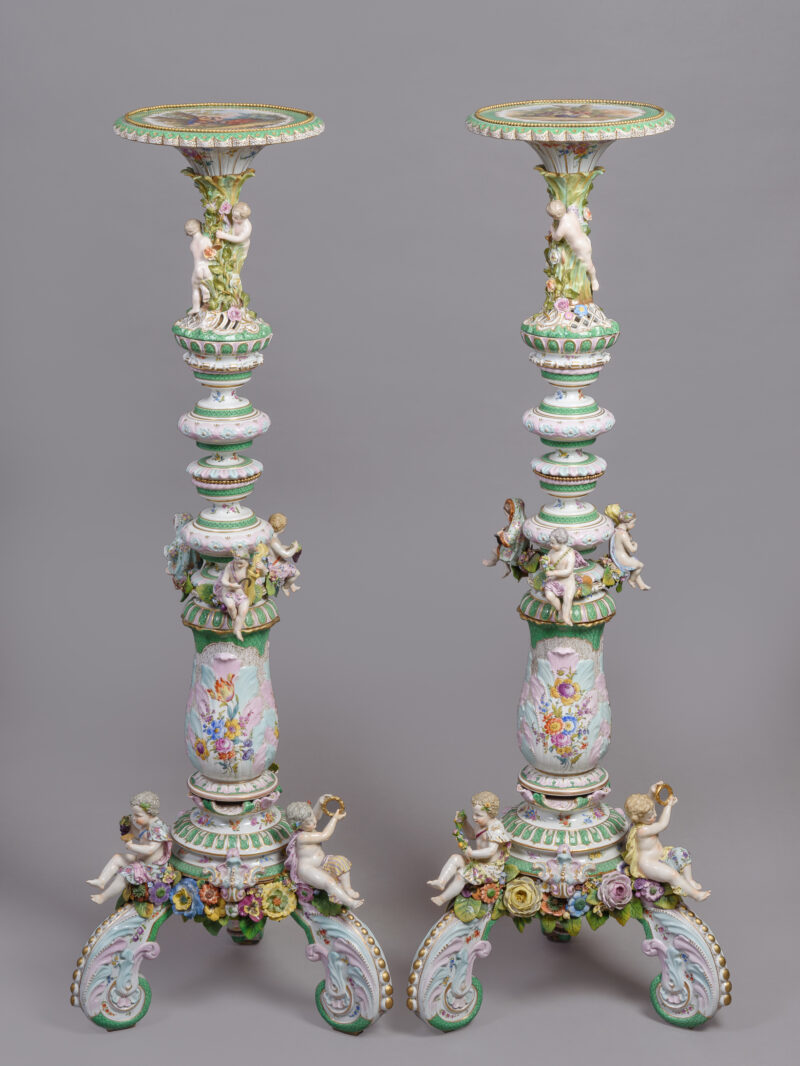 Four Season Porcelain Torcheres
Meissen or Dresden, Germany, 19th Century
This large, extra­or­di­nar­i­ly elab­o­rat­ed pair of Porce­lain Torcheres intrigues with its beau­ti­ful, detailed paint­ed dec­o­ra­tion and vivid execution.
The poly­chrome paint­ed columns are fine­ly embell­ished with lav­ish flow­ers and foliage. The base colours are bright blue, rosé, white, a soft gold­en tone dec­o­ra­tion, and a scale pat­tern on a green background.
Six, vivid­ly and fine­ly craft­ed put­ti on each Torchere are paint­ed with cute faces, blush­ing cheeks, red lips, blue eyes and curly hair, and a pas­tel skin tone. Their light cloth­ing varies with the sea­son and is rich­ly, colour­ful­ly painted.
Struc­ture:
The Torcheres emerge from a tri­pod, scrolling base in pas­tel blue and rosé, a scale pat­tern on green back­ground, and a gold tone bead­ed decoration.
The base ter­mi­nates into the turned, rich­ly embell­ished, tall col­umn. Above the base sits a lav­ish­ly dec­o­rat­ed wreath with blos­soms and leaves, mount­ed with vivid­ly elab­o­rat­ed fig­urines with the attrib­ut­es of spring, sum­mer and autumn, lead­ing into the mid­dle part of the col­umn, del­i­cate­ly paint­ed with blos­soms, mount­ed with three fig­urines with the attrib­ut­es of sum­mer, autumn and win­ter. The top is beau­ti­ful­ly dec­o­rat­ed with sur­round­ing gild­ed beads, enclos­ing a roman­tic scene, the bot­tom of the top is paint­ed with flower bou­quets. Under­neath anoth­er sec­tion of the col­umn with two small fig­urines play­ing hide and seek in grass­es and flower garlands.

Both tableaus are show­cas­ing fine­ly and detailed scenes, paint­ed in the style of Jean-Antoine Wat­teau (* 1684 † 1721). One depicts two ele­gant, colour­ful­ly dressed gen­tle­men with flute and bag­pipe lean­ing against a tree, and a lady in beau­ti­ful yel­low-blue dress, hold­ing the music book for the two musi­cians, flower wreaths at the bot­tom of her feet.
The sec­ond tableau depicts a roman­tic scene with a young, court­ing cou­ple, absolute­ly char­ac­ter­is­tic of Jean-Antoine Wat­teau and for which he was well-known. The cou­ple in love sits in a clear­ing next to a pond, the girl has a lav­ish flower bas­ket in her lap, the boy embell­ish­es her hair with flow­ers. Two lit­tle goats com­plete the idyl­lic scene.
Porce­lain objects of this par­tic­u­lar, large size, so mag­nif­i­cent­ly and del­i­cate­ly exe­cut­ed, are rare to find on the inter­na­tion­al mar­ket. In most cas­es, these mas­ter­ly craft­ed porce­lain pieces were com­mis­sioned from aris­to­crat­ic cir­cles or for the new clien­tele of the 19th cen­tu­ry, bankers, man­u­fac­tur­ers and own­ers of the large glob­al trad­ing hous­es, the new­ly emerg­ing upper classes.
Espe­cial­ly note­wor­thy is the won­der­ful con­di­tion of these large Torcheres, con­sid­er­ing that all the elab­o­rat­ed small fig­urines have sur­vived the cen­turies in such excel­lent shape.
We are already look­ing for­ward to the cus­tomer who will be able to call this beau­ti­ful and extra­or­di­nary pair his own. These extra­or­di­nary objects will cer­tain­ly bring some joy and light­heart­ed­ness to every Interior.