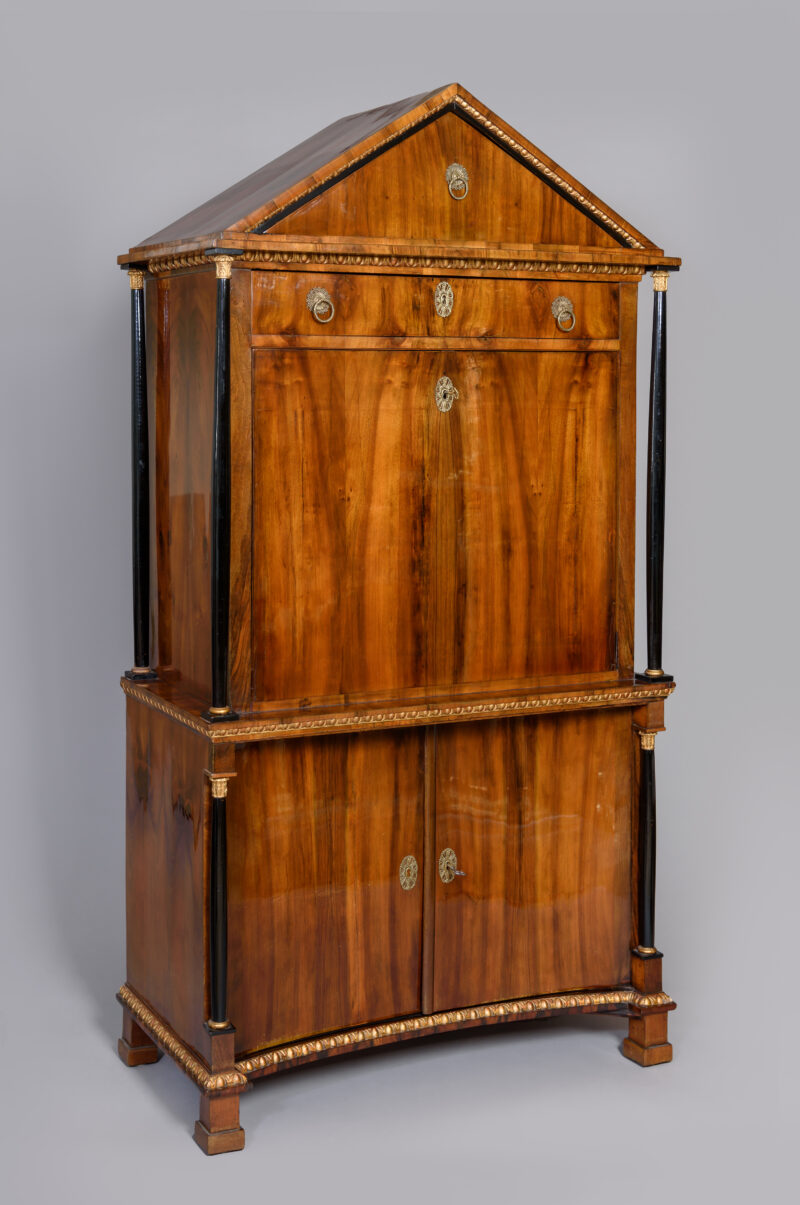 Exceptional Viennese Biedermeier Writing Secretary
Vienna around 1820
This extra­or­di­nary Vien­nese Writ­ing Cab­i­net is stun­ning­ly exe­cut­ed in wal­nut and wal­nut veneer. The low­er part comes with slight­ly re-entrant, inwards bomb shaped doors, flanked by ebonized pil­lars with gilt cap­i­tals, and is adorned with sur­round­ing egg-and-dart dec­o­ra­tion; raised on four square, pedestal legs.

The reen­trant writ­ing area in the mid­dle is enclosed by four vivid­ly made, ebonized pil­lars, embell­ished with gild­ed, carve acan­thus capitals.
The large, fold­able writ­ing plate reveals the inner depart­ment, con­sist­ing of eight small draw­ers, veneered in maple wood, and eight small shelves with ebonized ele­ments.
The cen­ter has a on three sides mir­rored com­part­ment dec­o­rat­ed with a star shaped, orna­men­tal ink or so called schwar­zlot paint­ing on the bot­tom,
This part is remove­able and reveals a secret part with four small draw­ers.
A frieze-draw­er sits on top of the writ­ing area.

The cab­i­net is sur­mount­ed by a ped­i­ment shaped roof, embell­ished with a gild­ed egg-and-dart frieze and a draw­er on the front. It has four locks in total, embell­ished with gilt bronze fit­tings; two keys.

Fur­ther­more, the back wall of this remark­able object is fit­ted with anoth­er secret com­part­ment, which was made acces­si­ble at a lat­er point in time.

Pieces of fur­ni­ture of this kind, with fold­able writ­ing sur­faces, beau­ti­ful­ly elab­o­rat­ed inner com­part­ments, and gilt bronze dec­o­ra­tion ele­ments, were the key pieces of every ele­gant Inte­ri­or in the ear­ly 19th Cen­tu­ry. Our writ­ing cab­i­net here tru­ly is an excep­tion­al object, with lit­tle addi­tions from restora­tions at a lat­er point.
Lit­er­a­ture:
Möbel Robert Schmidt p. 288 Abb. 231 Sekretär. Wien um 1810 – 20 Ehem. Samm­lung (for­mer col­lec­tion) Max Strauß, Wien

Möbel (Fur­ni­ture) des Klas­sizis­mus, Louis XVI und Empire, Wolf­gang L. Eller p. 227, dep. 374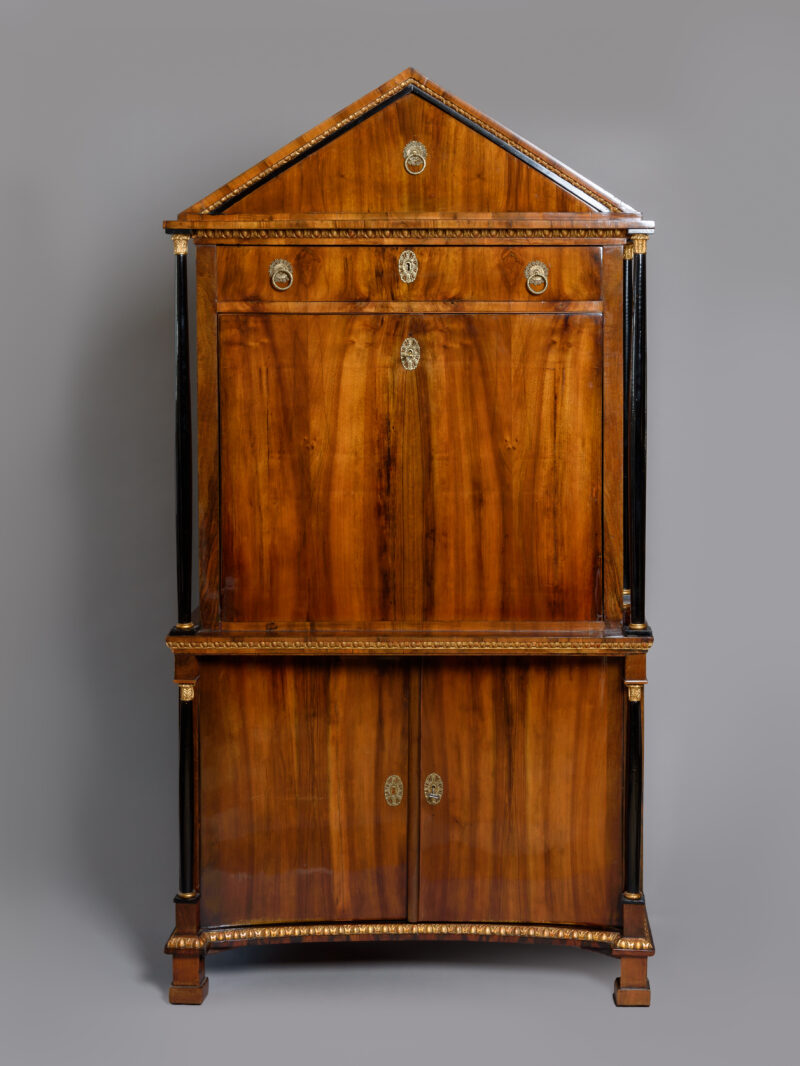 Viennese Biedermeier Writing Cabinet, around 1820
H: 199 cm, W: 105 cm, D: 54 cm