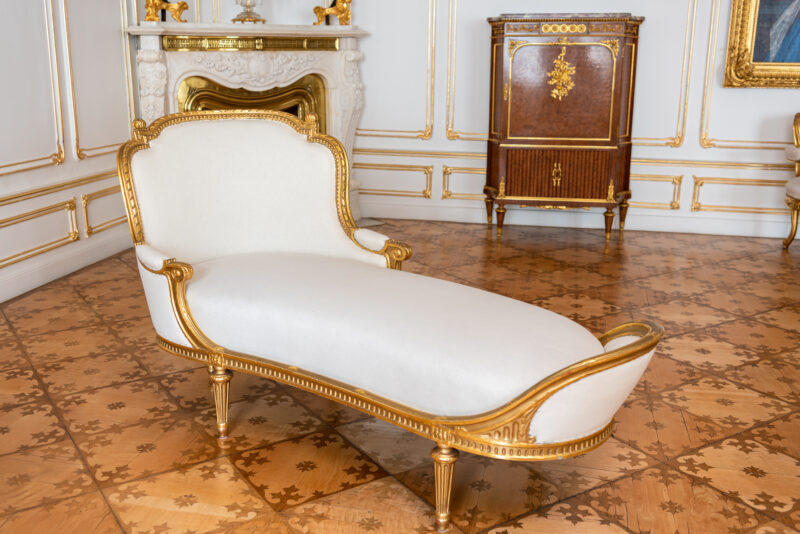 Elegant Chaiselongue, around 1900
Manufactured and signed by Charles Bernel Paris
This very del­i­cate­ly wood­en carved and leaf gild­ed Chaise­longue is raised on five taper­ing, flut­ed legs.
The ele­gant­ly mould­ed frame with trail­ing, twist­ed, and crossed rib­bon dec­o­ra­tion cap­ti­vates with the beau­ti­ful, very fine gild­ing. The dec­o­ra­tive­ly swept, slight­ly turned and padded back­rest ter­mi­nates in scrolling, leaf dec­o­rat­ed armrests.
Fresh­ly uphol­stered in our work­shops with a white base fab­ric, ready for a dec­o­ra­tive fab­ric of your desire. We have access to an excel­lent net­work of fab­ric man­u­fac­tur­ers and are hap­py to assist with your choice. Our ser­vices include cov­er­ings in-house.
Charles Bernel (1889−1956) was a sig­nif­i­cant fur­ni­ture design­er and man­u­fac­tur­er who suc­cess­ful­ly col­lab­o­rat­ed with renowned artists of his time, such as René Lalique. Impor­tant man­sions and roy­al fam­i­ly mem­bers were amongst Bernel's illus­tri­ous clientele.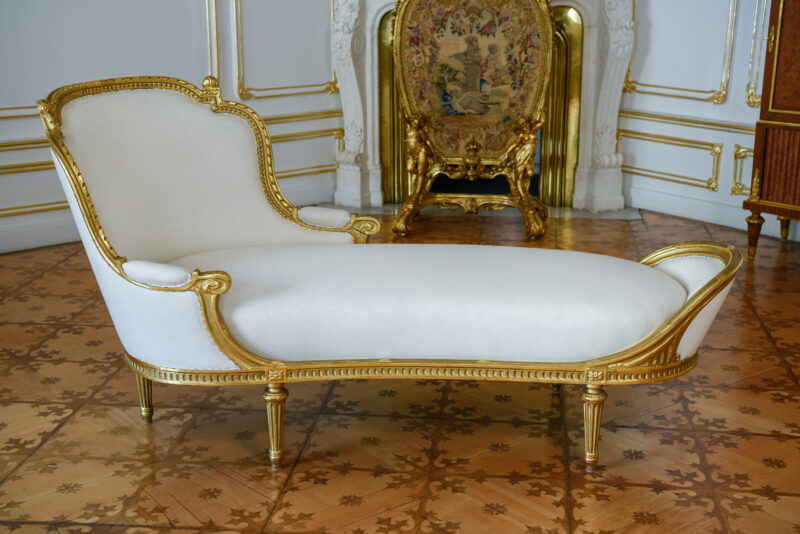 Chaiselongue by Charles Bernel
H: 91 cm, W: 70 cm, L: 180 cm