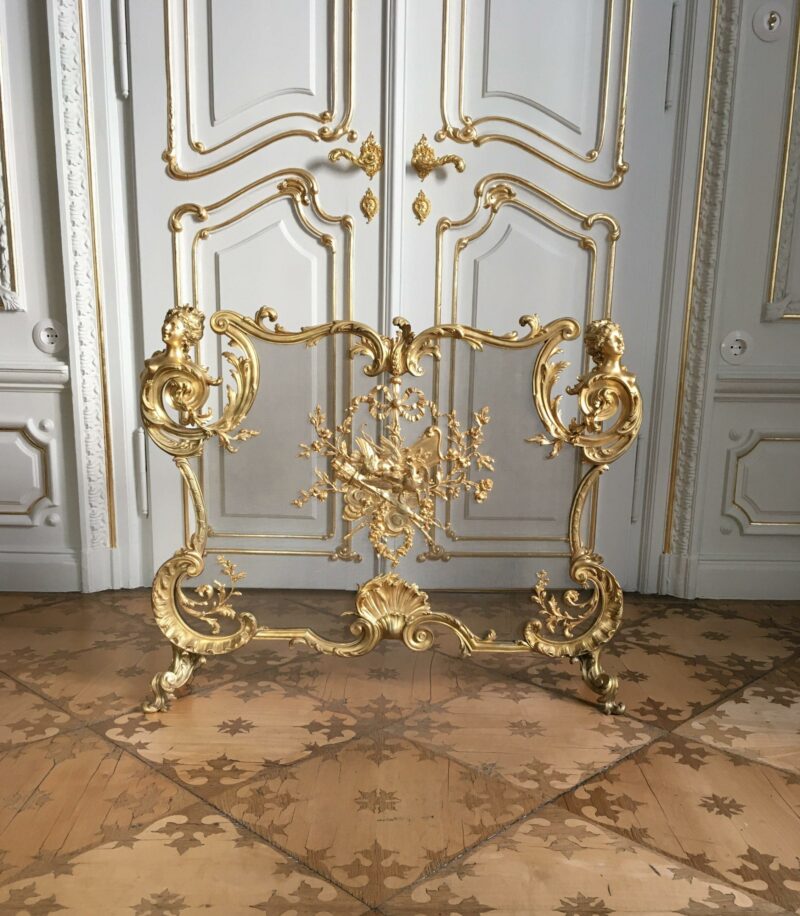 Rare And Important Model Of A Gilt Bronze Firescreen
Most likely a collaboration of Bouhon Frères/Bouhon et Cie and François Linke, Paris around 1900
One of the most extra­or­di­nary mod­els of a Fire­screen in the 19th Cen­tu­ry man­u­fac­tured in Bronze Doré.
Adorned with very fine­ly chis­eled espag­no­lettes, espe­cial­ly the ele­gant phys­iog­no­my of the female fig­ures and their fine­ly elab­o­rat­ed hair­style. Foli­ate dec­o­ra­tion through­out, cen­tered by the attrib­ut­es of love — a pair of doves, quiver with arrows and a harp, sur­round­ed by flower gar­lands and crowned by a rib­bon. Shell motif on the low­er part.

Signed B & C
A sim­i­lar mod­el by Léon Mes­sagé was exhib­it­ed at the World Exhi­bi­tion in Paris 1900.
The head­quar­ters of the impor­tant man­u­fac­to­ry Mai­son Bouhon Frères (for­mer­ly Mai­son Clavier and lat­er Bouhon et Cie until 1898), was locat­ed in the Marais in Paris. The broth­ers Thomas and Joseph Bouhon were extreme­ly suc­cess­ful with their fine­ly chased and fire-gild­ed bronze work, espe­cial­ly with fire­place acces­sories, which were a nov­el­ty in this high qual­i­ty. They exhib­it­ed at the World's Fairs 1878 and 1900 and received the gold medal of the inter­na­tion­al jury.
François Linke (1855−1946) was the most promi­nent French fur­ni­ture man­u­fac­tur­er known for renew­ing the Louis XV and the Regency style. He opened his shop in Paris in 1881 and had a big break­through with his lav­ish fur­ni­ture at the 1900 World's Fair. Roy­al fam­i­lies and sev­er­al per­son­al­i­ties were amongst his inter­na­tion­al clien­tele. He reg­u­lar­ly col­lab­o­rat­ed with Bouhon Frères/​Bouhon et Cie.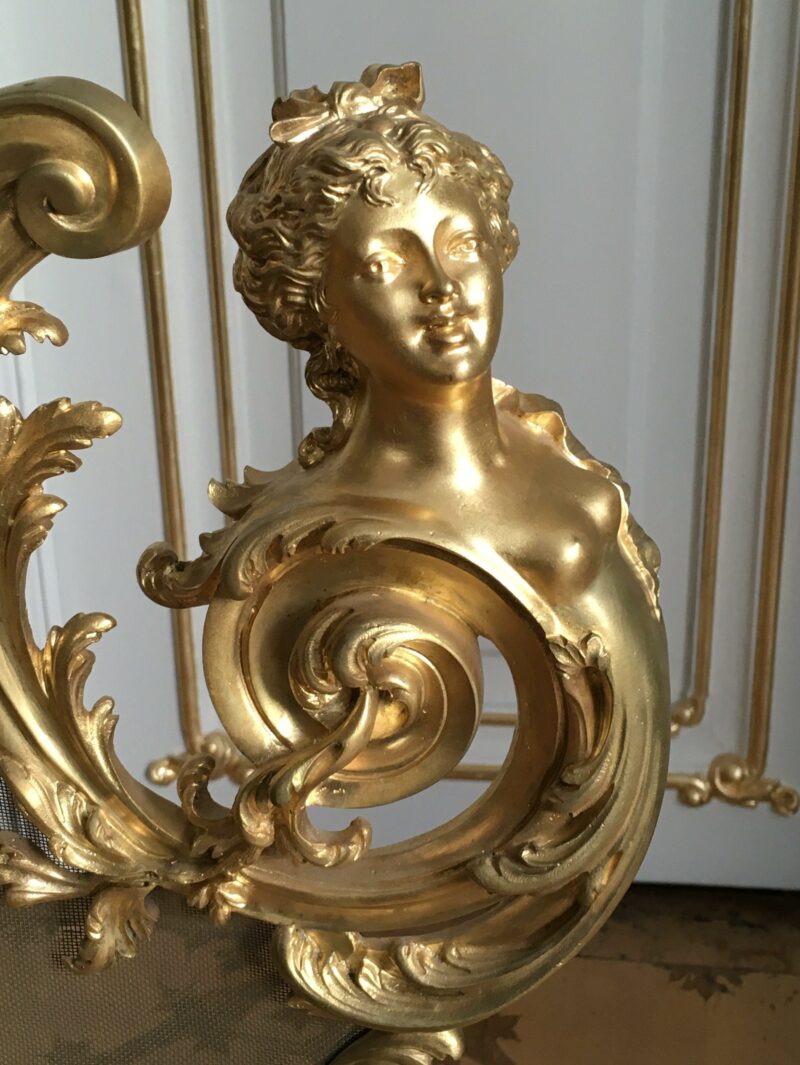 Firescreen
H: 69 cm, W: 85 cm, D: 19 cm