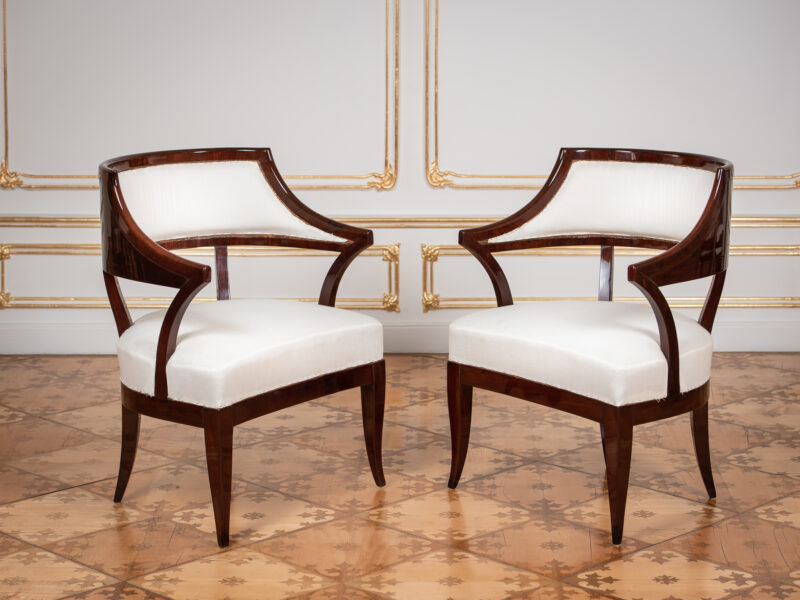 A Rare Pair of Viennese Armchairs *SOLD
around 1810
These extra­or­di­nary Arm­chairs in Mahogany and Mahogany veneer, designed and exe­cut­ed in muse­um qual­i­ty, are an excel­lent exam­ple of the ele­gant, almost mod­ern style of the ear­ly Vien­nese Bie­der­meier and stand for spec­tac­u­lar crafts­man­ship of the high­est stan­dards. The shape with the typ­i­cal curved lines inspired the Art Deco Style more than 100 years later.

Fur­ni­ture from the ear­ly 19th Cen­tu­ry made in Mahogany and Mahogany veneer, was only reserved for the very wealthy, aris­to­crat­ic soci­ety and unaf­ford­able for the Bour­geoisie or poor­er aris­to­crat­ic classes.

Such per­fect­ly designed and exe­cut­ed fur­ni­ture from this era today most­ly exists in muse­um col­lec­tions only, such as Alberti­na, exe­cut­ed by Josef Dan­hauser, at the MAK muse­um, Geymüller­schlössl Col­lec­tion, or The Impe­r­i­al Fur­ni­ture Col­lec­tion, all sit­u­at­ed in Vienna.
The chairs got ren­o­vat­ed with the utmost care in our work­shops. Seat and back­seat are fresh­ly uphol­stered using tra­di­tion­al tech­niques and are now ready for a cov­er fab­ric of your choice. We do offer uphol­stery ser­vices in-house and have access to an excel­lent net­work of fab­ric manufacturers.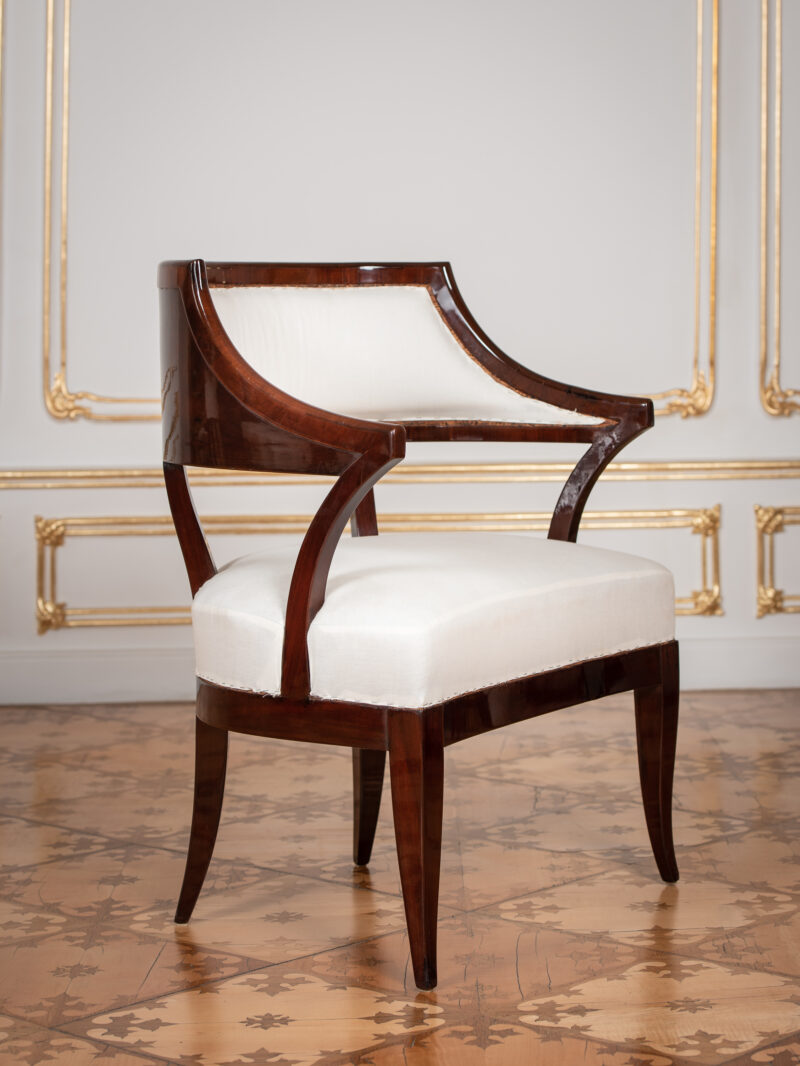 Viennese Armchairs
Each W: 64 cm, D: 51 cm, H: 86 cm