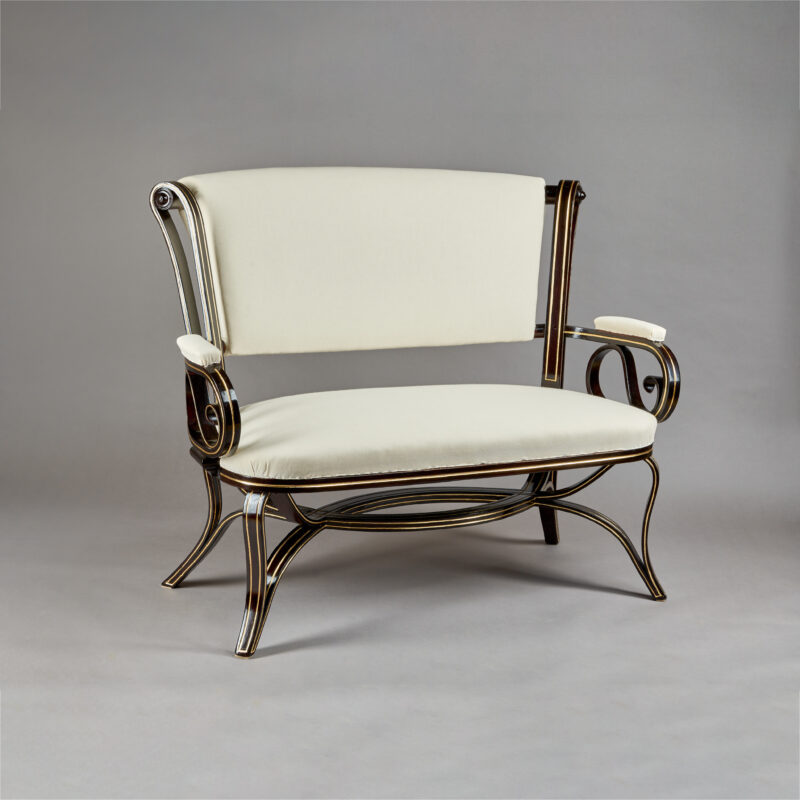 Early and Rare Thonet Salon Bench
Rare ear­ly Thonet salon sofa still in the ​"Liecht­en­stein con­struc­tion" with­out screws, with rigid glued con­struc­tion and curved ele­ments. The curves and counter-curves of the struc­ture made of bent wood are cham­fered and bronzed, which was the most expen­sive exe­cu­tion variant.
The seat, back­rest, and arm­rests are hand-uphol­stered, exe­cut­ed, and ready to be cov­ered with a dec­o­ra­tive fab­ric of your choice. The so-called Liecht­en­stein con­struc­tion can be traced back to the work that Michael Thonet did in col­lab­o­ra­tion with Carl Leistler for the Prince of Liechtenstein.
Michael Thonet was a pro­tégé of the Aus­tri­an Chan­cel­lor and Prince of Met­ter­nich, who invit­ed him to Vien­na. In Vien­na, he was com­mis­sioned by the archi­tect Peter Hubert Desvi­gnes to pro­duce fur­ni­ture for the Palais Licht­en­stein. This also prompt­ed Thonet to present his prod­ucts at var­i­ous world exhibitions.Since Carl Leistler (car­pen­ter and par­quet man­u­fac­tur­er) already had a gen­er­al con­tract for fur­ni­ture and floors, Thonet worked for Leistler as a sub­con­trac­tor on this project. Beau­ti­ful and elab­o­rate par­quet floors as well as seat­ing fur­ni­ture in the style of the ​"Sec­ond Roco­co" were man­u­fac­tured for the Liecht­en­stein Palace. Some pre­cur­sor mod­els of the Mod­el Series No. 5 were already on dis­play at the Lon­don World Exhi­bi­tion in 1851, to which Michael Thonet trav­eled in 1850 for prepa­ra­tion. In Lon­don, Thonet pre­sent­ed an ensem­ble con­sist­ing of a chair, sofa, and arm­chair for the first time. In the list of exhibitors, Thonet is men­tioned with six dif­fer­ent chair mod­els, two arm­chairs, a sofa, two tables, a sewing table, two read­ing tables, and two étagères. From the exhib­it­ed set, he devel­oped the lat­er series mod­els No. 9 and No. 5. Both exe­cu­tion vari­ants were avail­able along­side each oth­er until the mid-1870s.
The first known sales cat­a­log was pub­lished in 1883, fea­tur­ing a total of 21 pages and 219 mod­els. A sec­ond cat­a­log by the Thonet broth­ers was pub­lished in 1886, and a third in 1888, which already offered 339 dif­fer­ent mod­els on 30 pages.The present sofa can be found in the Thonet cat­a­logs of the years 1886, 1888, and 1904, among oth­ers. See pho­tos in the fol­low­ing variants:
*As a frame for uphol­stery; *Cham­fered; *Cham­fered and bronzed (like the present sofa).
The design of this ear­ly salon sofa can cer­tain­ly be under­stood as a syn­the­sis of func­tion­al­i­ty, com­fort, aes­thet­ics, and form. Par­tic­u­lar­ly impres­sive is the incred­i­ble lin­ear­i­ty in which the curved wood is shaped into curves and counter-curves. It is a mas­ter­piece of ear­ly crafts­man­ship in wood bend­ing, man­u­fac­tured by one of the most sig­nif­i­cant fac­to­ries of that time.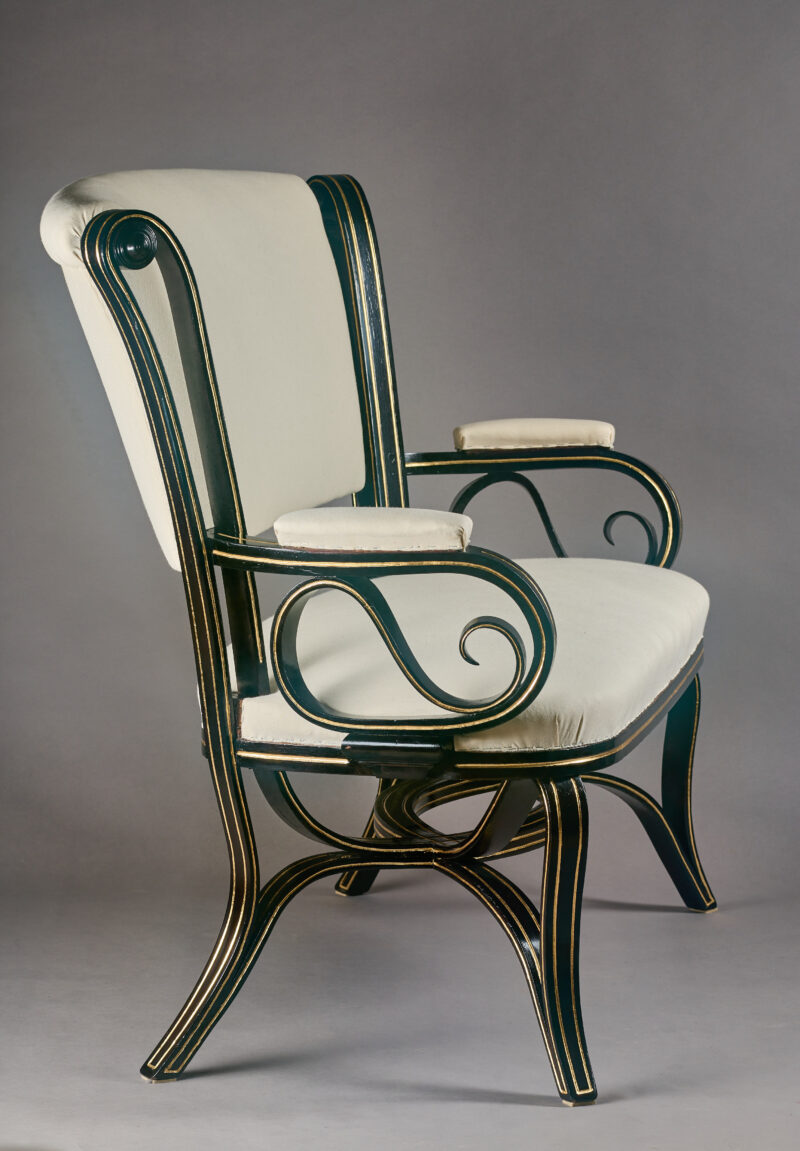 Thonet Salon Bench
W: 121 cm, D: 60 cm, H: 97 cm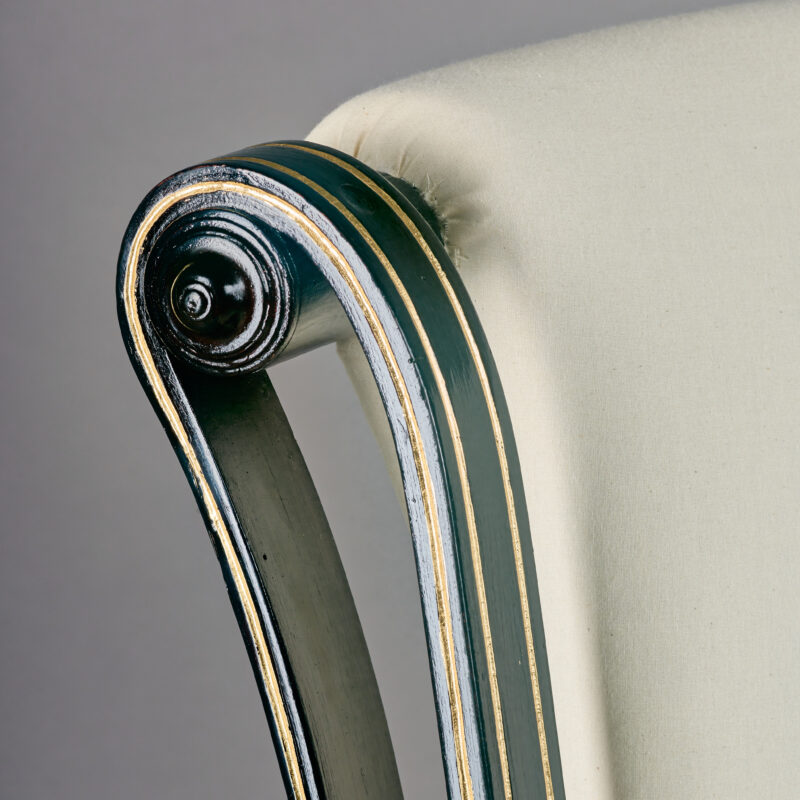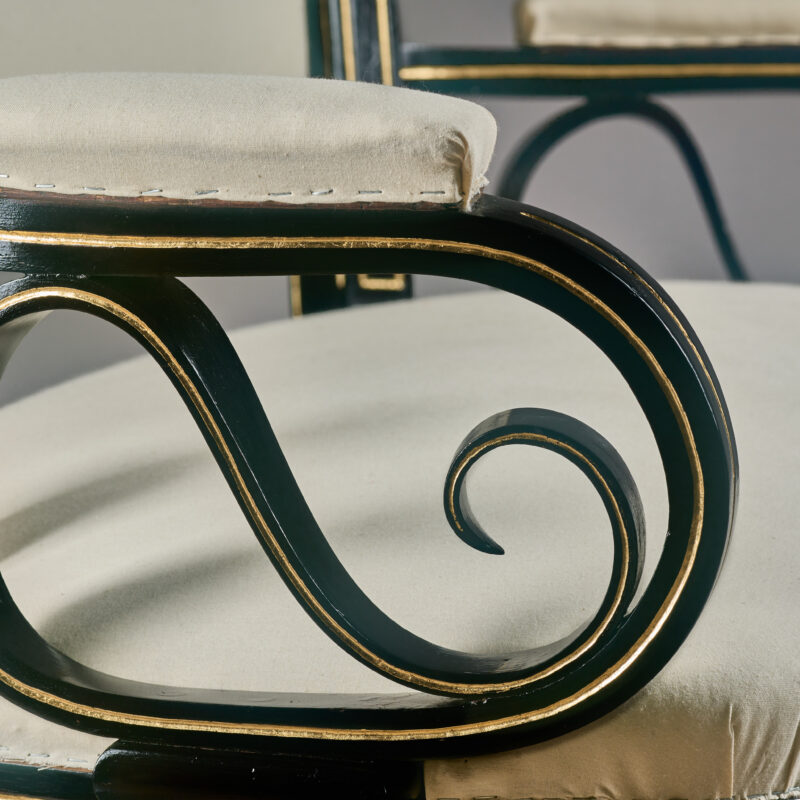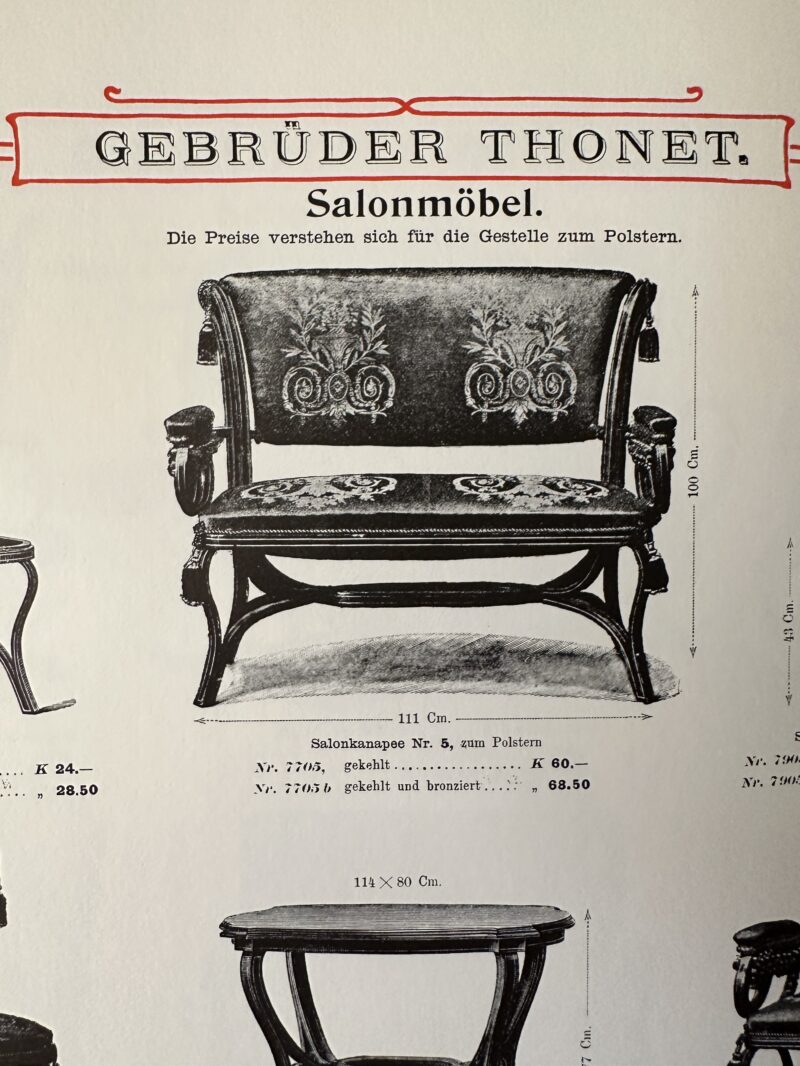 Salon Canapé - from the Thonet Catalog of 1904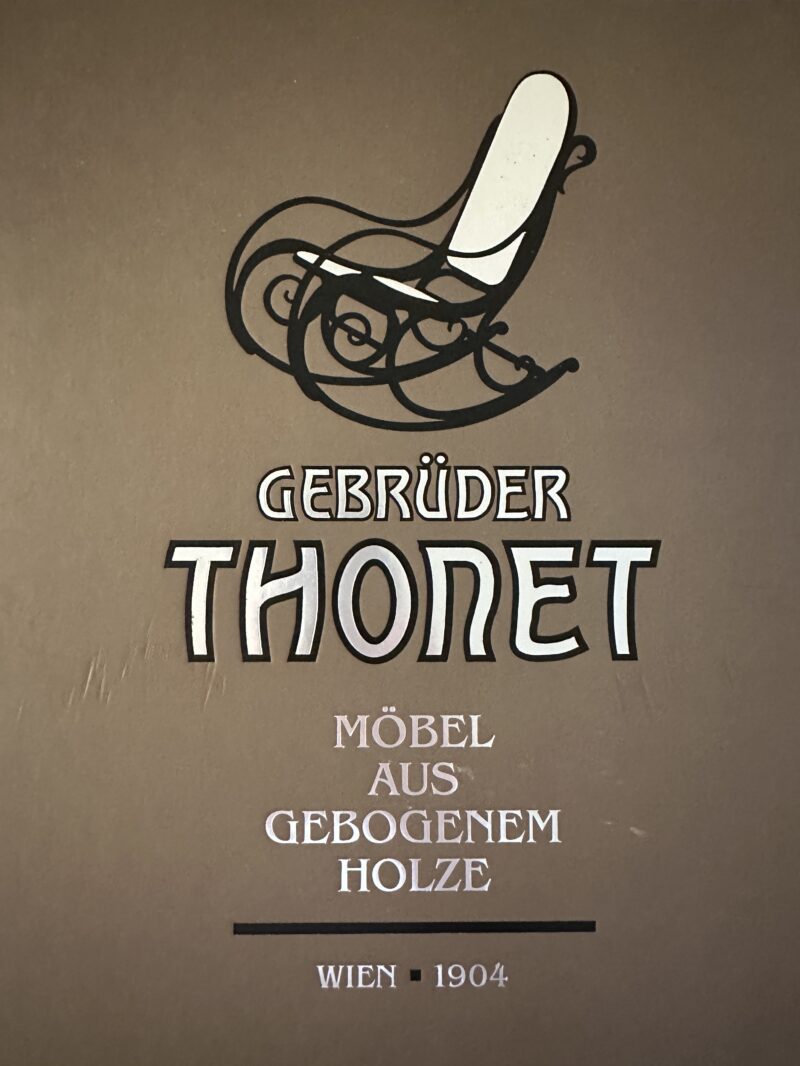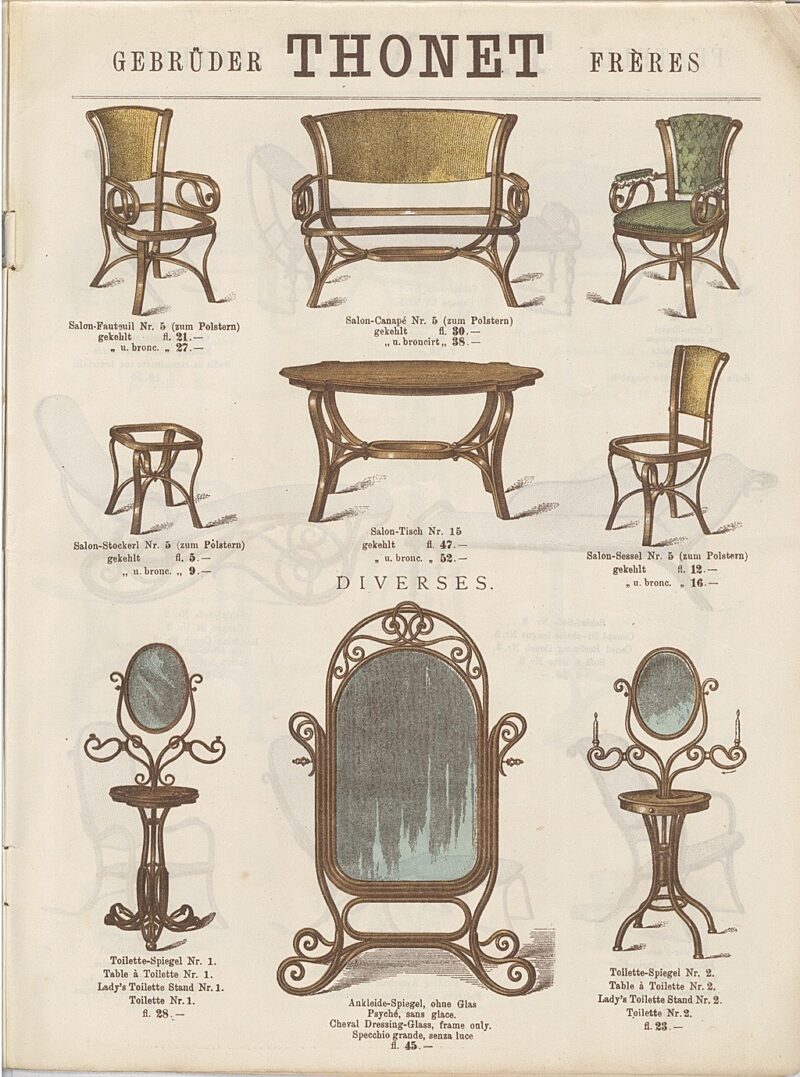 Salon Canapé - from the Thonet Catalog 1886 and 1888