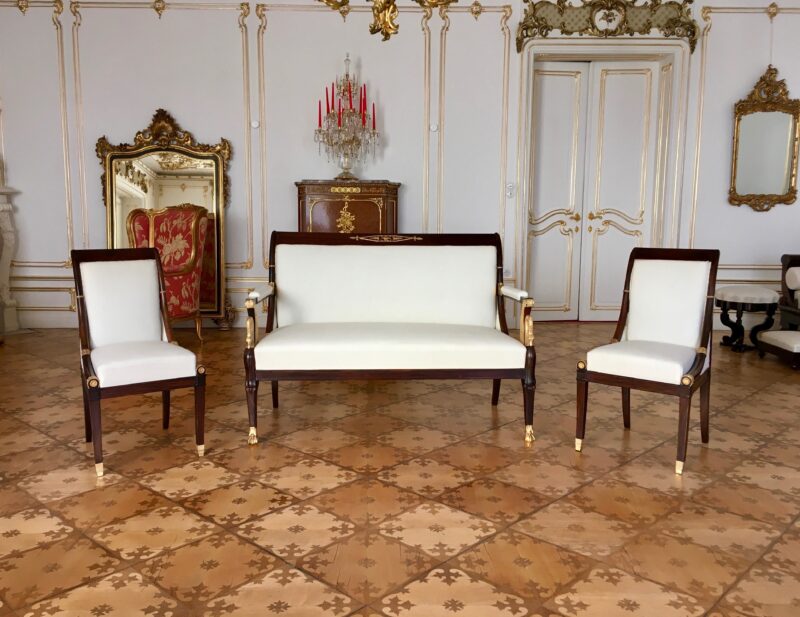 The Swan Salon Suite
Model of the Salon Suite in the "Würzburger Residenz", 1st third of the 19th Century
Con­sist­ing of one Set­tee and two Side chairs in Pal­isander sol­id wood and rich Bronze Doré dec­o­ra­tion; very fine­ly cast styl­ized swan heads and décor ele­ments; ter­mi­nat­ing in paw feet.
A mod­el of this Salon Suite — in lemon tree wood and with sil­ver dec­o­ra­tion — is locat­ed in the ​"Tus­cany Room" at the Würzburg­er Res­i­dence; Design by Johann Valentin Raab (please see below the depict­ed mod­el https://www.residenz-wuerzburg…)
Beau­ti­ful­ly elab­o­rat­ed, and — because of the high­ly expen­sive ship­ping of exot­ic Mahogany and Pal­isander wood in the 19th cen­tu­ry — extra­or­di­nar­i­ly rare Salon Suite in sol­id Palisander.
The fact that this Salons Suite is not in veneer but sol­id Pal­isander is an absolute high­light and most like­ly stands for a very wealthy customer.

Fresh­ly uphol­stered in white, ready for a cov­er fab­ric of your choice! We are hap­py to assist and offer uphol­stery in-house.
"
Kun­st­geschichte des Möbels", by Adolf Feul­ner, ill.
487
, Johann Valentin Raab um
1809
Würzburg­er Residenzmuseum
"
Möbel für Samm­ler und Lieb­haber" by Robert Schmidt Klinkhart
&
Bier­mann Braun­schweig ill.
226
Settee
W: 136 cm, D: ca. 73 cm, H: 97 cm
Chairs
W: 49 cm, D: 54 cm, H: 91 cm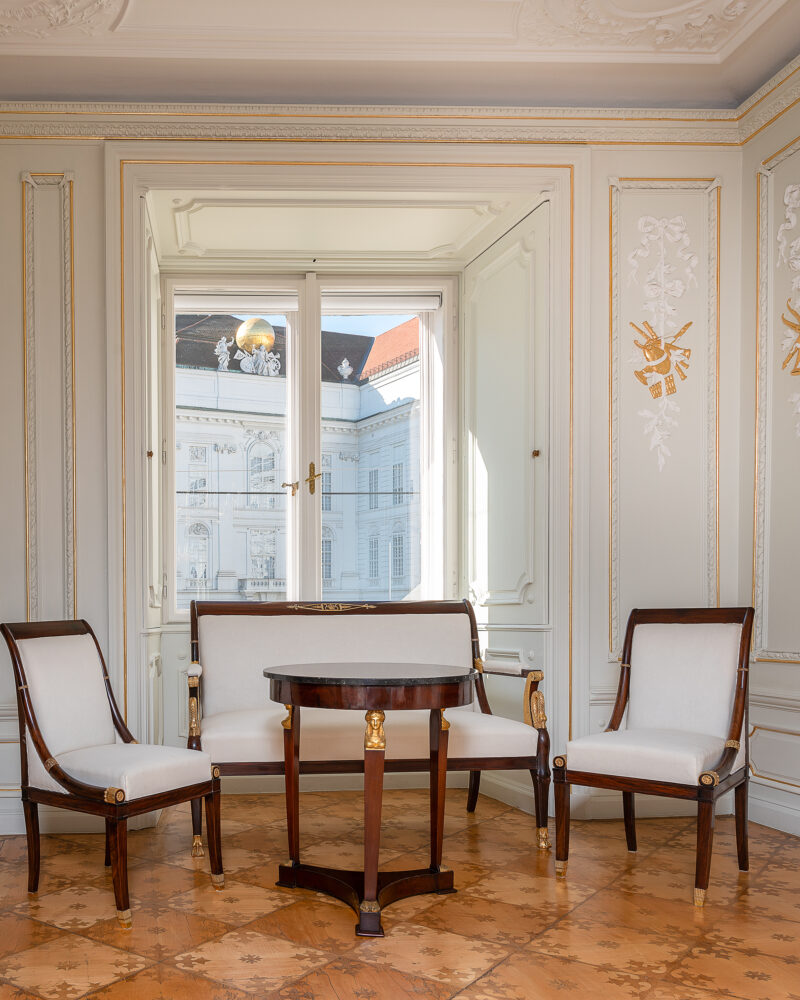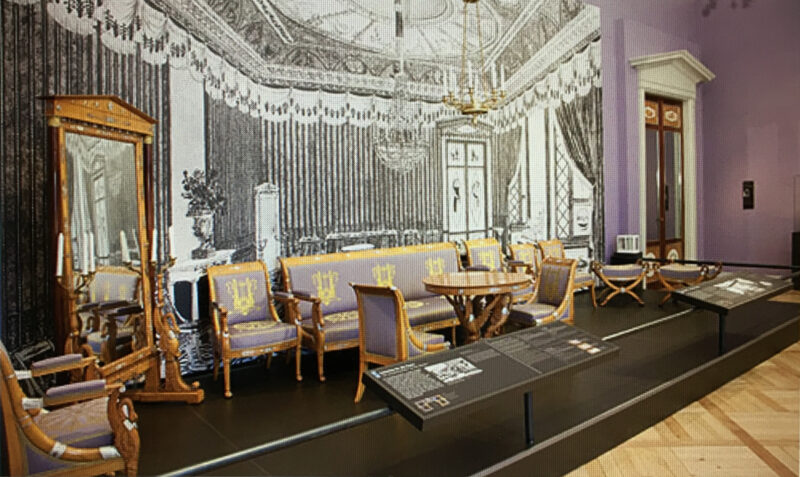 A Model of the Swan Salon Suite in the "Tuscany Room" at the Würzburger Residence, Germany
The former Prince Bishop's Würzburg became a secular Grand Duchy from 1806-1814, governed by Ferdinand III from Tuscany after his expelling from Florence. The furniture manufactured for the Würzburger Residence in this so-called "Tuscany period" belong to the most significant works in the European Empire. Most of these pieces got destroyed in WWII, but some of the most important ones got restored in the meanwhile and are on display at the Würzburger Residence in an artificial set-up with wallboards and give an impression of the living situation at times of Grand Duke Ferdinand III and later of the Bavarian Crown Prince Ludwig I. Especially the exhibited Ensemble of the "Grand Salon" and the "Swan Ensemble" showcase the former glory and magnificence of these beautiful pieces.